For those that have not been formally introduced, my name is Christopher Phiouthong, also known as your favorite Asian, Chrispy, AKA the diversity of Trackstarz, AKA the guy responding sarcastically on the facebook page, and the one posting up for #MovementMondays.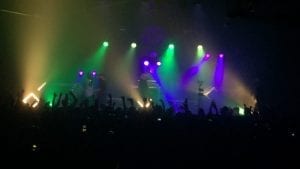 This is a concert review for the Friends and Family Tour in Nashville, TN at the Marathon Music Works featuring Andy Mineo, Wordsplayed, and the Social Club Misfits. I had the joy of experiencing this with some of my folks. Now before I get into the actual review, this concert is in my top 3 of every concert that I have attended. That being said, it is not without flaws.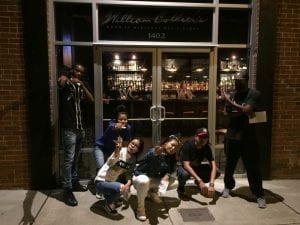 Keep in mind that this review is for the first stop of the tour so there were some issues with timing, lighting, execution, etc. that will be cleaned up in future concerts.
For the show itself, I did not partake in the VIP part of the pre-show as I did with Andy's Uncomfortable tour, but if it was anything like that, it was a very unique concert going experience that gave me a deeper appreciation for the artists (which involved a semi-serious game of Dodgeball between fans and artists).
It was also a nice change of pace to have this type of concert at a different venue rather than Rocketown. For those that have not been to Rocketown, it is a semi-Christian venue that is used by alot of artists within the culture. My only complaint about the venue itself was that the bass at times was overwhelming though that may be to compensate for BrvndonP no longer playing drums for Andy and friends.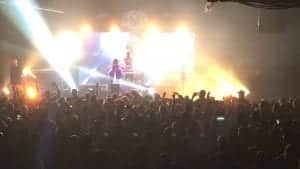 Now let's get to the pros and cons of the concert itself.
PROS:
These guys are some of the best at what they do. Their music seems the most collectively fitting for a live show (moreso than Andy or Wordsplayed). The energy they bring is contagious but also tiring, which makes me wish that I had stretched prior. Unrelated, I may have hit somebody in the face with an elbow. My bad.
The project is on full display here. I actually didn't listen to the entire project prior to the show, but this concert definitely made me want to shell out money for it, which is saying alot nowadays.
Though it was just one song, Andy shared a sneak peak of a song that is high energy without falling into that 'youth group' sound. I do have the video for anybody that's curious, but out of respect for Andy Mineo's request, I do not plan to post it so it is a tour exclusive for the time being.
4. Lighting and Wanting More
The lighting is usually bombastic for the bigger songs, but for the most part it seems to match up to the music similarly to how EDM does their live shows. Also, by the end of the show, I did not want to leave, so thats a good thing to want more music.
Merch game has improved a bit beyond the typical 'song lyric on a shirt'. Also, seeing Wordsplayed pop out from behind one of the curtains to just enjoy the music for a quick second  showed that the artists are genuinely having fun which is a plus.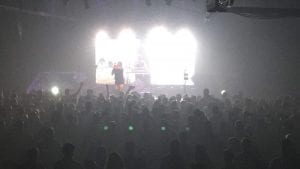 CONS:
This is something that is not exclusive to this show, but to every show that I have ever attended within the culture which is quite a few. One of my friends helped out behind the scenes and was informed to push the show personally the week prior with no real direction or budget. Though the turnout was ridiculous, had there been a competent promotional campaign in a city with a  church on almost every block, the venue would've been packed and then some easily. I do give credit for them having a decent (though lazy) geofilter for the show but it still came off as amateurish. For those that don't know, a geofilter is a snapchat filter that is specific to a location for a certain time for events.
I do understand that Andy is the biggest act on the tour, however it was a bit disheartening to not have Social Club dive into their catalog a bit more which is a challenge though to be fair, their catalog is huge so there's a good chance that your favorite song may not get played. Also, Marty and Fern have a bit of music that could've gotten at least a little bit of love. And we can't forget about…
If there was any artist that got the short-hand of the stick, it would be Wordsplayed. None of his solo music received any time which is a shame because his Clowntown project is underrated to say the least plus I feel like most folks aren't familiar with his work outside of his collaborations with Andy Mineo.
4. Crowd Participation and Chemistry
This is an area that Social Club really excels at while Andy and Words are still growing in. If you've been to a show from an artist like KB, the interaction is unique and not limited to jumping during the chorus or putting your hands up and down. Social Club knows how to make it personal while energetic in their own way. Andy and Words do well inbetween songs, but it's a bit apparent that they haven't performed together to the same extent that their misfit counterparts have. I presume that this will improve with each show, but its still a bit noticeable.
The title of the tour implies possible guest appearances. Seeing B.Cooper and JuiceBangers after the show made me ponder what could've been. With Nashville being home to RMG and the likes of Derek Minor among others, it would've been nice to see an onstage collab between the former labelmates plus a live performance of Party People would've been amazing. What could've been…
Kids. I get that the artists are Christians and you want to encourage your children but keep in mind that this is a hip-hop concert. People will get rowdy. It's not their job to watch out for your kids. If you keep them near the front, you are putting their safety at risk. Please get them to either a balcony or something farther back so they can see the whole stage while still having fun at a safe distance.
Picking people to dance. Artists, if you're going to pick people to dance on stage, please pick people that look like they can dance (or at least let loose). During the show, Andy and Wordsplayed picked about 7 people to join them on stage. 2 and a half had rhythm. 2 could legitimately dance. According to my guy that I brought, Wordsplayed was looking at him directly (far left on the group picture above) and if you were to meet him or see him, you could probably tell he dances (mini-rant over). Pretty much, pick folks that look like they have rhythm.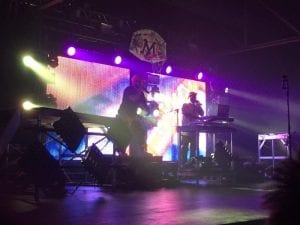 My final thoughts are that even though it seems to be more cons than pros, this is a great concert to check out, especially for those that are critical of whether a 'Christian' hip-hop show is genuinely good or not. Again, the issues I have listed should be worked out as more shows are done.
Great show but not perfect. Lots of potential.
-Christopher Phiouthong AKA Your Favorite Asian, Chrispy AKA Diversity of Trackstarz.