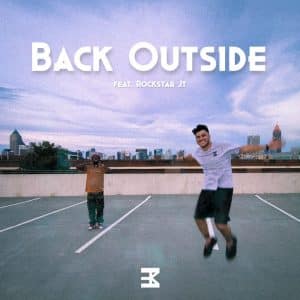 uknowitsIKE, a resident of Atlanta, Georgia is excited to share his new song "Back Outside" featuring Rockstar JT. As Summer 2022 ends, "Back Outside" celebrates good times with friends and the freedom of being back outside as the Covid-19 pandemic slows down. Having worked alongside artists including Lecrae, Lil Yachty, and PmBata, uknowitsIKE pushes energy and creativity with this hyped track.
Listen to it here!: https://songwhip.com/uknowitsike/back-outside
After dropping the 'Uncle Ike' EP in 2021 about internal struggles through the 2020 Covid-19 pandemic, uknowitsIKE switches gears by expressing excitement and freedom from the pandemic with a fast paced beat and lyrics. Both uknowitsIKE and Rockstar Jt rap from their own perspective on two verses about being back outside in Atlanta, Georgia, where both artists currently reside. Following each verse is a mellow hook sung by uknowitsIKE showing growth from the grind in Atlanta and looking to God, which then leads to a high energy outro with chants from both artists. The track is completely self produced by uknowitsIKE and features energetic hip hop percussion and vocal samples on the verses, and spacey synths and vocal samples on the hooks.
Having been featured by Trackstarz, Voyage ATL, CCM Magazine and more, uknowitsIKE is grateful for all of the love and support for the music so far. He wants to reach others through his music to inspire faith, encouragement, and positivity, while keeping the production and lyrics fresh and different. Look for more releases throughout the rest of 2022!
Check out uknowitsIKE's latest EP release, 'Covid Got Me': https://on.soundcloud.com/JNvc
Connect on all socials: @uknowitsIKE
Official website: www.uknowitsike.com Facebook page: www.facebook.com/uknowitsike
***
uknowitsIKE, a 24 year old independent creator from Atlanta, GA, has aspirations that drive him to push creativity everyday. Born and raised in Kansas City, MO, uknowitsIKE continues to push the boundaries of pop and hip hop, influenced by different cultures, genres, and styles of music. Recently graduated with a Bachelor's in Music Technology, he constantly surrounds himself with music and helps other artists create their own projects. Aspiring to reach out to others with his craft, uknowitsIKE shares his experiences through each song. Inspired by artists like Jon Bellion, Jaden, and Andy Mineo, he wants to make a positive impact and change lives for the better.
With several singles and a couple EPs on major music platforms, uknowitsIKE continues to push forward in his musical career. After working with artists from Reach Records, Quality Control, 300 Ent. and more, he knows that the key to success is to keep creating more music, trust in God, and make connections with others in the music industry. Producing, engineering, distributing, and promoting his own projects can be a challenge sometimes, but uknowitsIKE continues to drive forward. Humbled by the feedback he's received thus far, he is encouraged to keep creating and push his limits further.