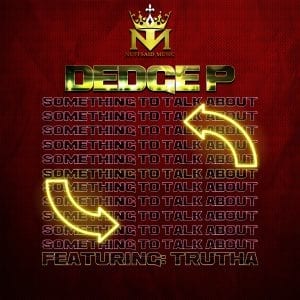 This song was written to encourage people to go hard for Jesus even when people think your doing too much and you should tone it down. Our thought was we are going to turn it up and give them something to talk about.
Dedge P was raised by a single mother of five in a rough section of South Central Los Angeles. His father was beaten by the police at an early age who then eventually died from his injuries. Dedge P grew up in the church as a very active participate in several organizations within the church.
At the age of 19, Dedge P stepped away from God and form a local independent rap group called South Centrals Finest (SCF). They released a record called "Live From South Central" in 2001. In 2003 Dedge P decided to give his life back to the Lord and endorse the gospel of Jesus Christ.
He formed the gospel production/record company called NuffSaid Music which successfully released two mixtapes entitled "DA FREE MIXTAPE VOL.1″ and " THA TAKEOVER… THA FREEMIXTAPE VOL. 2 (tripe CD)" . Dedge P has also featured on Rapzilla, Z180's Artist Watch and graced the cover of Kingdom Building Online magazine along with other christian sites.
Dedge P has released his debut album "Word On The Street" in 2011 and a EP called "2GBG – To God Be The Glory" in 2015. Dedge P is not afraid to share his emotions, trials, and tribulations which is what inspired him on his latest album "Share My Heart" which was released late 2020. Dedge P has worked with some of Christian Hip Hop's well known artist such as ToneEX, Dre Murray, T Haddy, K-Drama, BB Jay, R-Swift, Xay Hill and many more.
Dedge P continues to work on music and plans to release music every month as he continues to share his heart.
Spotify Link: https://open.spotify.com/track/3qVHSblXQ74A4KyHqCd4uJ?si=WJxf2dN2QyOqEvyTWm73aQ
Itunes Link: https://music.apple.com/us/album/something-to-talk-about-feat-trutha-single/1558954353?uo=4&app=itunes
Youtube Link: https://www.youtube.com/watch?v=z1cjZr9rihc