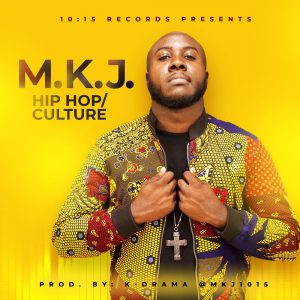 by Memphis-Based Gospel Rapper M.K.J.(My King Jesus)
"Hip Hop/Culture" Prod. by Grammy Award Nominated Producer K-Drama
Song Available EVERYWHERE NOW and Music Video On Youtube!
Malik K. Johnson, aka "M.K.J." (which stands for MY KING JESUS) although only 27 years of age, is 13-year veteran

Gospel Rapper/CEO and Founder of 10:15 Records (based on Romans 10:15) from Memphis,TN.

M.K.J. has devoted his life to the Gospel, to reach the lost, the streets, and the youth.
With five mixtapes and two albums, 18 music videos combining with over 300,000 views, countless tours

and souls saved later, M.K.J. is still grinding full time as he sets to impact the culture, by challenging and provoking the hip hop AND urban community with his latest single "Hip Hop/Culture",

prod. by legendary CHH artist and producer, Grammy nominated, K-Drama!
My social media:
Instagram, Twitter: @mkj1015

Facebook.com/mkj1015