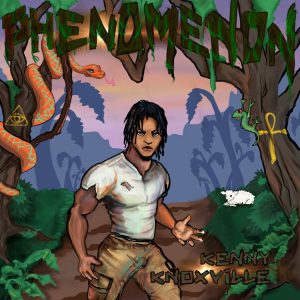 KENNY KNOXVILLE SPAZZES ON HIS NEW SINGLE "PHENOMENON" AND REMINDS LISTENERS THAT LYRICISM IS NOT A LOST ART IN HIP HOP.
AVAILABLE ON ALL STREAMING PLATFORMS.
Newport News, VA… August 23rd, 2020… Kenny Knoxville is excited about his fourth single, since the release of his sophomore album, as he gains much support for his latest hit "Phenomenon". Powerful lyrics laced over a bass driven banger are the perfect combination as Kenny emphasizes, "Christ became the ultimate Phenomenon more than 2000 years ago, when he rose from the dead, yet skeptics continue to cast doubt on his even his existence.
No matter what the critics say, one thing remains true: The Gospel of the only begotten Son of God is historically accurate, and the truth should never be silenced!"
The Youtube comments for the lyric video are full of support and excitement, while radio stations and media platforms weigh in:
"This single INCREDIBLE and the vibe is insane!! He really spazzed out on this one.  This track really reminds you that there's STILL cats out there that can spit, not just in CHH, but Hip Hop in general!" ~ DJ IROCKJESUS, Legendary DJ for Christian Hip Hop
"I really, really like the song.  The more you listen the more you will like it… It's like an explosion that build the longer its going off.  Great stuff bro" ~Jay of The Crew's Hip Hop Corner
"It is so easy to get caught up in the bouncy beat to this song, but I dare you to play it a second time and I promise you'll find the lyrics start bouncing directly from the speakers back to your heart. Kenny's got a big Summer banger for 2020, a time when we all need to bounce in our homes, cars and offices while being inspired and uplifted at the same time."  ~Von Gee Roy, CEO of K107FM Toronto
"This song is fire brother! Really great, scriptural message, nice beat and flow." ~ Kellie Leigh, CEO of Music Lov3rz Magazine.
Visit Kennyknoxville.com today to stay updated on new releases, raffles and merchandise.
Youtube Video Link:
Bio:
Kenny Knoxville Bio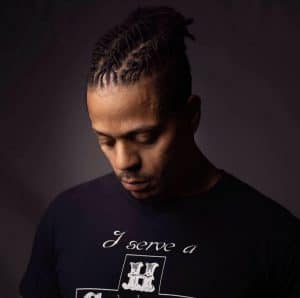 Kenny Knoxville started preaching the gospel through music in Sean Slaughter's studio back in 2008 where he recorded his first solo album Straight Commission No Salary. Kenny never released the album, because he wanted to focus on his relationship with Christ and aim to be a more disciplined ambassador for the Kingdom.
In 2011 he came back to Slaughter Studios to record an EP entitled the "Real Truth" and has released an album every three years since. His lyricism has earned him features to include Lil Prophet's Revolution album, while his smash hit "Kingdom Barz" received placement on the BET Awards mixtape in 2014. He has also been featured on ThisIs50, 50 cents music website, and is currently receiving spins to more than 10 million listeners by DJ's from NY to CA, and even Toronto.
Kenny is currently being championed by the Legendary CHH icon DJ I Rock Jesus and never hesitates to express his gratitude for the OG and guru of Christian rap.  "When I got saved, IRock's mother and my mother went to the same church, and in hopes to help keep me off the street, she told him I was making music before I got locked up for burglary. In an attempt to keep me in the right direction, IRock would feed me Christian music like my life depended on it, and even brought me to the RapFest '06 in the Bronx, NY," says Kenny. "The nail in the coffin was when I saw Da Truth perform Welcome to our World… the energy just pulled me in, and it was at that moment that I realized I didn't wanna use my gift in any other way, but to bring glory to God… and it's been on and poppin' ever since."
As a pioneer to his own label and independent brand, Kenny Knoxville proves time and time again to display impeccable lyricism as he articulates the gospel with clever punchline and meticulous wordplay.
Visit Kennyknoxville.com today to stay updated on new releases, raffles and merchandise.
Lyrics:
Verse 1:
Rappers I annihilate
Hit my target yeah I'm aiming from a mile away
Resurrect tomorrow if I day today
Yeah, you can die today
Bride of Christ I'm standing at the alter say I do
Living water drip eternal where I get my youth
Scripture stay infallible that's where I get my truth
Fire rising out the floor I must be in my booth
I'm straight out the Badlands flip a handstand Daniel Wu
Y'all all full of guile but lack that sonic boom
Trials come my way I am tried and true
I based that on work of God and that ain't based on what I do
No confidence in my flesh, my flesh ain't got no suffrage here
Still I'm Heaven bound I betta not shed another tear
Trinity of Sword swinging like a musketeer
I was saved by Cavalry and I remain a buccaneer
Swing the canon like Yosemite Heavenly Gun can't run from the nozzle
Send a blessing to enemies I set off yeah I'm an Apostle
Never runnin out of oxygen breath of my God all up in my nostril
They think I'm hostile I'll be a martyr
Resurrect and I ain't leavin a fossil
Never hesitate or break when the haters all up in ya face
Like a cop when he crooked he holding the mace
I don't waver like Mason Betha
I'm a Bad Boy only God is good
But he made better than I ever been
Raised outta hell I ain't heaven sent
Now tell ya neighbor to tell a friend
God is comin back now repent of sin
Chorus:
I'm that rap phenomenon
I could run a marathon through the amazon
My flow paragon in ya pantheon
100 miles an hour on my autobahn
Verse 2:
I just whip it, whip it, whip it, no willow no nana
Boy is you grown or you a babe me and God on a play date
This match was made in heaven
He like Kenny you Crae Crae
He the Craig to my Dede
TGIF it's payday
Give my thanks I'm back to work
Take my tithe my last and first
Devil on my AstroTurf
I was kinda mad at first
That's till I got revelation bout all of these trials and all my temptations
What don't kill me is makin me stronger
God trying to build up my patience
Born again minus birth pains
Mountains Move When my words say
You gone feel it when the earthquake
God was raised on the third day
I heard He turned water into wine through the grapevine
Frankincense and mirth raised
While I turn this communion to dirt cake
Come and taste why the Lord is sweet
Bless the humble and protect the week
Kill ya pride or ya future bleek
Bless Da Flow God and bless the beat
Jesus said he took the wheel
I be driving from backseat
God told me I should hold the heat
Road rage so I hold the peace
—
From Rock Bottom to the Rock of Christ