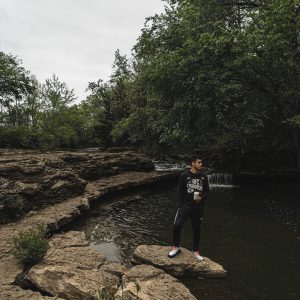 uknowitsIKE, a new resident of Atlanta, Georgia is excited to share his debut EP 'Uncle Ike' after taking a couple year hiatus. Formerly known as Ike, he created a six song project that was greatly inspired by self discovery during the 2020 pandemic. Having worked alongside artists including Lecrae, 1K Phew, WHATUPRG, and PmBata, uknowitsIKE makes a fresh start with a unique EP that mixes hip hop, pop, and rock.
Watch the brand new music video for "… Gonna Be?"!:
The second track, "… Gonna Be" is uknowitsIKE's response to the first track which questions who he's going to be in different scenarios. It features uknowitsIKE's vocals along with symphonic choirs and hip hop percussion. Rapping on the first section, he delivers an emotional performance that gives insight to thoughts over the past year. Singing on the second section, he shares a conversation with God about sin and shame. The song finishes with a finale of choirs and orchestra instruments as uknowitsIKE's voice is joined by others from the first track.
Listen to Uncle Ike EP here!: smarturl.it/uncleike
Connect on all socials: @uknowitsIKE
Official website: www.uknowitsike.com Facebook page: www.facebook.com/uknowitsike
***
uknowitsIKE, a 23 year old independent artist/producer from Atlanta, GA, has aspirations that drive him to push
creativity everyday. Born and raised in Kansas City, MO, uknowitsIKE continues to push the boundaries of pop and hip hop, influenced by different cultures, genres, and styles of music. Recently graduated with a Bachelor's in Music Technology, he constantly surrounds himself with music and helps other artists create their own projects. Aspiring to reach out to others with his craft, uknowitsIKE shares his experiences through each song. Inspired by artists like Jon Bellion, NF, and Andy Mineo, he wants to make a positive impact and change lives for the better.
With several singles and an EP on major music platforms, uknowitsIKE continues to push forward in his musical career. After helping engineer projects at Reach Records in 2018, he knows that the key to success is to keep creating more music, trust in God, and make connections with others in the music industry. Producing, engineering, distributing, and promoting his own projects can be a challenge sometimes, but uknowitsIKE continues to drive forward. Humbled by the feedback he's received thus far, he is encouraged to keep creating and push his limits further.