Official Music Video "Holding Me Down" By D Brazil Comes with uplifting chill vibes and a catchy hook that will have you soon singing along. You're going to definitely want add this one to your playlist. Check out the official video here or Stream her track at https://songwhip.com/dbrazil/holding-me-down , and Let us know what you think in the comments!
About D Brazil
D Brazil is a born again Christian artist from Detroit, MI. Her purpose for doing music is to teach people about God, uplift God, and give believers and unbelievers an alternative when it comes to music choices. Her goal is that people would be drawn near to God through music.
D Brazil also has some exciting thing planned for 2021 with new music and event info coming soon, so you're definitely going to want to follow her on social media below.  She also has some exciting events in the works in collaboration with The Blessings Are Real Music Group, which is the music organization that she is affiliated with.  Moreover, her focus is also involved with ministry work with sharing her testimony and demonstrating the strength of God in all she does.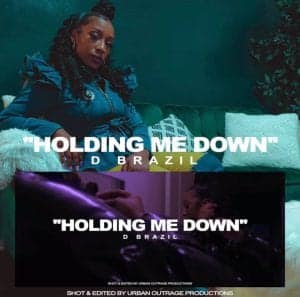 FB: iamDBrazil
IG: iamDBrazil
Twitter: iAmDBrazil