JAS Drops his new single "2Much" feat Kham, and the track has almost "2Much" layered in the creativity of the track to listen to only once!  JAS has hit the ground running this year with 3 other tracks that recieved positive reviews and ratings from FiveTwentyCollective, Rapzilla, RYCPraiseNews, to name a few. "2Much" is available now for purchase and streaming on all major digital media platforms, so head on over to your favorite music platform and give it a spin.  Here is a link to play "2Much" now!  We would love to know what you think about "2Much" below!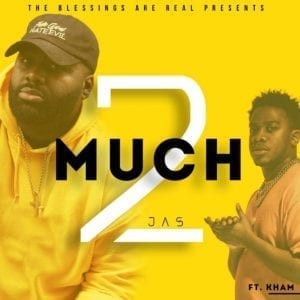 JAS also has some exciting projects and plans scheduled for 2021! He has video for his new single in the works and if it is anything like the past video production on his previous his songs it will definitely be something that you will want to stay tuned for! Additionally, he has new music dropping almost every month this year, as he focused on producing mostly singles this season to provide consistent content that is focused on creating high caliber quality.  Furthermore, he also has some exciting events in the works in collaboration with The Blessings Are Real Music Group, which is the music organization that he is affiliated with.  Moreover, his focus is also involved in ministry work with TBAR, and Christ Is Relief; Which is a Non-Profit organization mission driven on supporting individuals and families that have been affected by natural disasters, Covid-19, and social issues such as homelessness and unemployment.
Artist Bio:
Trenton Louis aka JAS (Just A Servant) is a native of Muskegon, Michigan but currently resides in South Bend Indiana.  He has been making music for quite some time.  Music is and has always been a vital part of JAS's life.  He was strongly influenced by his mother growing up who is also an artist, and the apple didn't fall to far from the tree it was just a different type of apple.
Knowing how influential music is, JAS decided to use his God given talents to write music that shares the gospel in a unique way and has dedicated his life to serving God's people through his gift.  Hence his name JAS which is an acronym for Just A Servant, which he created to serve as a constant reminder to keep himself humble and remember his purpose.  While JAS has choosen to take the route of a gospel artist his writing techniques and music are very different than most artist that are gospel hip hop community. As he puts it, "I keep it 100 and write about tough issues that most artists won't write about".  In order to gain the full scope of understanding JAS as an artist, he encourages you to listen to some of his music and follow him on social media.
Instagram: @jasmuzik
Facebook: @jasmuzik3
Twitter: @jasmuzik