JAS Drops his new hit single "Saucy" feat. L. DeJuan and the track so saucy that it has listeners saying "now that's that lyrical BBQ right there!!  The tack has a nice bounce, creative wordplay, nice balance.  The official video was shot by Vurb Life graphics and complements the vibe of the song with a creative set, and leaves listeners hungry for more of this lyrical BBQ.  You definitely want to add this one to the playlist and Follow @jasmuzik and@ldejuan for more recipes!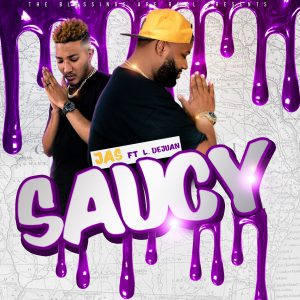 Stream "Saucy" Here: https://www.youtube.com/watch?v=9HAHwmUgJ_g
About The Artist:
Trenton La'Mar Louis aka J.A.S. (Just A Servant) originally from Muskegon, Mi; Currently resides in South Bend, IN.  Is an independent Christian Hip-Hop Artist affiliated with The Blessings Are Real Music Group.  He was inspired to make Christian hip-hop because of how influential music is, by providing positive music in a market where there is so much hate and division.  He is involved in men's mentorship programs within his ministry and also supports a growing youth program.  He lives up to his name Just A Servant, by serving within his community by utilizing his lawn care company to help those in need.