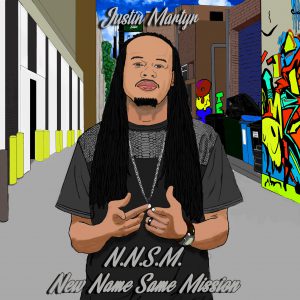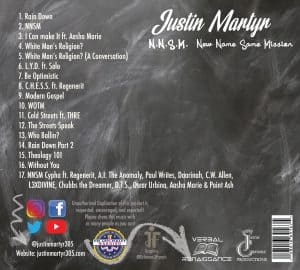 Justin Martyr aka Justin-Credible has released the New Album "NNSM"; which stands for
"New Name Same Mission." NNSM is Justin's fourth album and it explores a portion of the
journey Justin took when he moved from his hometown of Miami, FL to Atlanta, GA and then to
Chicago, IL to attend the historic Moody Bible Institute and Moody Theological Seminary.
There in Chicago Justin earned his Bachelor and Masters Degree. While in school for ministry
Justin changed his stage name from Justin-Credible to Justin Martyr and though he has a New
Name; his mission remains the same-to glorify Jesus in all he does and to lead people to
repentance and salvation in his name!
NNSM is an extremely diverse musical offering featuring many of the genres that have
shaped Justin as a musician and artist such as trap, boom bap, Gospel, reggae, EDM along with
other styles! NNSM also has features from heavy hitters such as God Over Money's A.I. The
Anomaly, THRE of NFTRY, Oscar Urbina, Aasha Marie (who is Justin's wife) Regenerit and
more! The Project ends on a high note with a Cypha featuring 12 emcees on one track! Most of
the album's production was done by Justin Martyr for his production company "Justin-Credible
Productions." Other producers on the album include V. Keys, along with samples and remixes of
songs by Kirk Franklin, Tye Tribbett, Sounds of Blackness and Jimmy Jam and Terry Lewis.
Justin played live drums on the album along with Kevin Greer on guitars and Sergio Huanango
on bass. NNSM is being released under the New Record Label Verbal Renaissance.
Download the Deluxe Version of NNSM for free on Justin's website at
https://justinmartyr305.com/nnsm-deluxe-album-free-download
Purchase or Stream the Retail Version of NNSM Today!
Stream on Spotify

Purchase on Apple Music/I-Tunes
https://music.apple.com/us/album/n-n-s-m/1523530544
Download on Google Play
https://play.google.com/store/music/album/Justin_Martyr_N_N_S_M?id=Bmzthiuwcpwkogkpo
q2hpaxdawa
Purchase on Amazon
https://www.amazon.com/N-N-S-M-Justin-
Martyr/dp/B08CYC46RW/ref=sr_1_1?dchild=1&keywords=NNSM&qid=1596679079&sr=8-1
Listen on YouTube
https://youtu.be/0f0R05tT9Y0
Connect with Justin Martyr:
Official Website: https://justinmartyr305.com
Facebook: https://www.facebook.com/justinmartyr305
Instagram: https://www.instagram.com/justinmartyr305
Twitter: https://twitter.com/justinmartyr305
About the Artist:
Justin Martyr is by no means a new artist, he is a musical veteran and has been signed to
two different record labels. Under his former stage name Justin-Credible; he's released an EP
(Child of the King EP in 2005) two solo albums (Child of the King LP in 2006 and Child of the
King Vol. 2 in 2008). A collaboration album was released with his best friend Vaughn "V. Keys"
Henry (Revealed Truth in 2010). He also rapped and played drums on Level 8's 2011 Album
"The One" and was featured on the 2016 album by V. Keys entitled "Clarity #2016." Justin
released his fourth album NNSM in 2020 and he also recently launched his own Record Label
"Verbal Renaissance Recordings" and has multiple artists under that imprint. Born and raised in
Miami, FL; Justin moved to Atlanta, GA in 2012 for theological and musical networking and
then to Chicago, IL in the same year to attend the prestigious Moody Bible Institute and Moody
Theological Seminary where he graduated with both his Bachelor's and Master's Degree in
Theology and Pastoral Ministry.
Currently, Justin lives in Chicago with his lovely wife and serves as a Pastor/Elder at
New Life Community Church in Bridgeport and he also serves as Pastor of Visitation at Urban
Youth and Family Outreach in Englewood, Chicago. By God's grace Justin has performed and
preached all over the world including the United States and North America, the Caribbean,
Europe and Africa. He has shared the stage with many world-renowned artists such as Fred
Hammond, John P. Kee, Pretty Ricky, The Ambassador, Israel and New Breed, Ace Hood, Cross
Movement, P.O.D., Skillet, KJ-52, Tonex, William McDowell, Canton Jones and many more.
Justin regularly performs and ministers on the streets, in churches, schools, bars, jails,
festivals and anywhere else he has the opportunity.