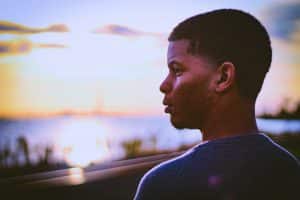 My name is DaeShawn Forrest and I'm a 20 year old Christian hip hop artist from California. I've been a musician at my church for the past five years and I have always been a huge fan of rap. I was introduced to Christian rap as a child but I didn't start making music until I was 18 because I felt there was a need to highlight a better lifestyle that didn't involve drugs, alcohol, and violence but promoted the total opposite of that and Godliness. All throughout the mainstream culture we see self-destructive behavior that's glorified and I want to be in position to let people know that living Godly is a much better route to go in life. I feel that God can really use me to be a blessing to somebody in need of one and that's my goal. I want God to be able to use me and bless my music however he desires.
At the beginning of the summer I was feeling very burdened by some situations that had taken place in my past. This issues had occurred years ago and I was tired of feeling hurt, discouraged, and feeling like I could never move on. It wasn't until I finally decided that I didn't want to keep holding on to the past and the only way for me to move forward was to address what I dealing with to God. It wasn't until I made that step towards the Lord that God started to work things out for me. He immediately started to heal me, increase my faith, bless me with things I never thought to ask for, and more. Over the course of the summer I felt that I was being changed and was no longer the same guy that I was before.
One of the lessons I learned during this time was that some people are just not meant to be in your life when God starts to elevate you. And as someone who really cares for those that I love and want them to make the right decisions, this was hard to grasp. But, unfortunately, that's just how life is. This is where the inspiration for "Don't Mind Me" came from. I learned that some things are just out of my control and some things God just has to handle himself. After realizing this, I realized that it is more beneficial for me to focus on what God has for me than it is for me to focus on other people. At the end of the day it's my responsibility to make sure that I'm completely right with God.
"Don't Mind Me" is apart of a brand new EP I released September 14th, 2019 titled "Keep It Going" which is available everywhere on all digital outlets.
IG: https://www.instagram.com/daeshawnforrest/
Link To Download/Stream: http://linktr.ee/daeshawnforrest