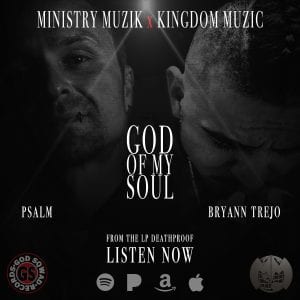 Psalm Teams Up with Bryann Trejo For Powerful New Single
Idaho-based rapper / singer Psalm Muzik has collaborated with popular Kingdom Muzic minister Bryann Trejo on 'God of My Soul' a powerful and moving track and the first single from Psalm's sophomore LP, DEATHPROOF.
The song feels almost like a call-and-response, as the opening line asks God prayerfully if he's listening and seem to come from a valley and struggle, then eventually leading to an affirmation of faith and the acknowledgement that God is good regardless of life's circumstances.
The song has already been added to rotation on several stations and Spotify playlists and has over 10,000 collective YouTube views in the first week of its online release.
Psalm says of his sophomore LP, "Overall, the project was written during a period of good fortune and relative peace in life, but a hard spiritual season, in which I often felt as though I were just going through the motions. I was forced to examine and test my faith, and really come to understand what and why I believed. Many songs on this project were expressions of that struggle."
Psalm's LP, DEATHPROOF, is available on all digital outlets. Follow Psalm @:
YouTube: www.youtube.com/psalmmuzik
Instagram: www.instagram.com/psalmmuzik
Facebook: www.facebook.com/psalmmuzik
Twitter: www.twitter.com/psalmmuzik
Apple Music: https://itunes.apple.com/us/artist/psalm/1351560551
Spotify: https://open.spotify.com/artist/0ieSrH9PNNvCvSz3x5Fsew
Website: www.ministrymuzik.com