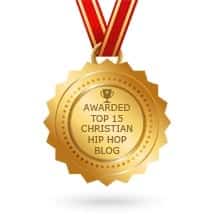 We wanted to share some good news with our Trackstarz universe. As we continue to push to impact hip hop culture and mainstream media with high quality, godly content any steps forward is because of the support of the Trackstarz universe. We are glad to announce that Trackstarz has been added to Feedspspot.com's list of Top 15 Christian Hip Hop Blogs on web. Not only did we make the list, but we were ranked #2 behind Rapzilla.
This not just good news for us, but it is good news for all of you in the Trackstarz universe. It is because of your support through prayers, giving funds, your retweets, your reposts, shares, likes, comments and spreading the word to others about what we do that has done this. We thank you all for your support of Trackstarz.
Now while we appreciate being recognized for what we do keep in mind that we are not in competition with these other sites. Rapzilla, Jam The Hype and other sites are not our enemies or competition. We are all family. Different branches of the body of Christ trying to bring Christ glory through music and media. A win for any of us is a win for all of us.
Congratulations to Rapzilla for topping this list. Congratulations to all of the other christian hip hop sites that made this list as well. I know at times it seems like we're making very little progress, but we are all out here all over the world lifting up the name of Jesus and lives are being touched through our ministries. Thank you again to Feedspot for acknowledging us and thank you again to the Trackstarz universe for your continued support.
God bless,
Trackstarz