December 17, 2018 and December 24, 2018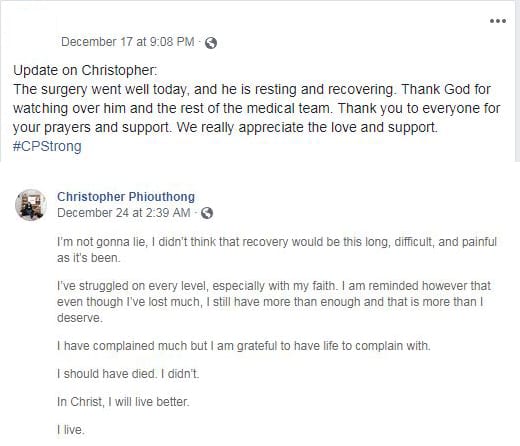 August 10, 2018
What a mighty God we serve!!!
In God there's always hope!! Keep trusting and keep believing for miracles.
It has been so long since my last update about Christopher, and many people have asked about him during that time. Christopher is doing much better now, and the therapists are working really hard to help him to be able to come back to his usual normal self. Every day has not been easy for him and our family, but the Lord is always faithful and always with us in every ste

p. Please know that all of your prayers have been answered. Christopher is still strong spiritually and physically, and never gives up loving the Lord. Many times we don't understand why these things happen but God knows. The doctors told us that after his body fully heals, there will be more surgeries including his eyes. Thank God for the doctors that they are not done with Christopher yet. Praise God for His goodness and mercies. Be thankful for everything. 

Please know, this is still under investigation case and for our safety, please continue to pray for our family especially for Christopher that he may endure all the pain. Thank you all for your faithful prayers and for supporting us. 

#

CPStrong
July 27, 2018


Dear family and friends,

Praise be to our Almighty God. It has been almost four months with over twenty surgeries, and Christopher's progress is approving. He is now eating real food with all kinds of drinks. He is being able to walk and able to talk through the speaking valve. It is still a long journey for him and our family. But his spirit is stronger than before, always having a positive mindset and believing/trusting the Lord. Most of all he forgives the people who had done to him and our family also forgives them since the first day. 
Christopher still has more surgeries coming. Please continue to pray for him. Thank you everyone for all the prayers and support and always being by our side. May the Lord bless you all with abundantly. 
All to God be the glory

🙏🏻

🙏🏻

 

#

CPStrong