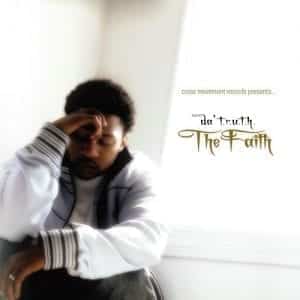 In 2003, one the veterans of CHH would drop his debut EP and start what would be a great career in ministry.  Emanuel Lambert, Jr better known as Da' T.R.U.T.H. drops his debut EP "Who Is The Truth?"  A premiere artist who would be the beginning of the next generation of artists for Cross Movement Records.  He would follow up this project with his first full length project entitled "Moment Of Truth" in 2004.
Then in 2005 he would drop a very pivotal project entitled "The Faith".  I consider this album an in depth look for Christians as to what it means to live by faith.  The starting point for this album would be the intro track "Welcome To The Faith".  Da' T.R.U.T.H. goes on to explain "Welcome to the faith.  Notice not a faith, but the faith.  A body of beliefs that determines what we think, our influence and how you behave."   In other words, the doctrines and teachings of Christ that we follow as Christians are our faith.  Not just a bunch of random things that we pick and choose to believe about God, but God has given us His word to instruct us on how to live. (II Timothy 3:16)
This album covers a variety of topics from how to show unbelievers our lifestyle, our relationship with Christ, being persecuted as Christians and defending the faith to the glory of God.  The track featured in this article is "Welcome To The Faith".  If you haven't heard the whole album, be sure to check it out and let us know what you think.  Until next time…
Peace and blessings.